The pandemic has forever shaped our lives and our priorities, we've shifted towards outdoor activities, healthier habits and a sustainable living now more than ever.
One of the most popular outdoor activities in the UAE has been the cycling scene that has sharply risen over the past few years and even more since the pandemic hit. Thousands of cyclists and bike enthusiasts head to Al Qudra and other cycling tracks in the UAE early morning all year round and despite the high temperatures during summertime.
As part of the government's initiative to make Dubai a cycle-friendly city, a new cycling track is already underway stretching a 16 kilometer distance and 4 meters wide. This track will connect the existing Jumeirah street cycling track with the track alongside king Salman bin Abdul Aziz Al Saud street located in Dubai Internet City. RTA aims to raise the lengths of cycling tracks in Dubai to 739 kilometers by 2026 in order to promote sustainable and environmentally-friendly mobility.
With the development of the bicycle-friendly infrastructure comes a great opportunity for commuters to work their muscles on two wheels while running some errands or commuting to work, this is exactly where BIKEERA steps in! BIKEERA aims to introduce the concept of daily commuting on two wheels in order to pave the way for sustainable mobility in the region.
BIKEERA is a new multi-brand destination for both commuters and cyclists, offering a wide range of top electric and mechanical bicycles as well as kick-scooters. We're here to add an extra kick of fun to your daily commutes by allowing you to move around easier, faster and with less effort, while still elevating your breathing and heart rate enough to get a meaningful daily workout!
We're introducing leading brands in the region including Stromer, KTM bicycles, Yadea, Cipollini and much more. Join us so we can cycle towards a healthier and more sustainable future together.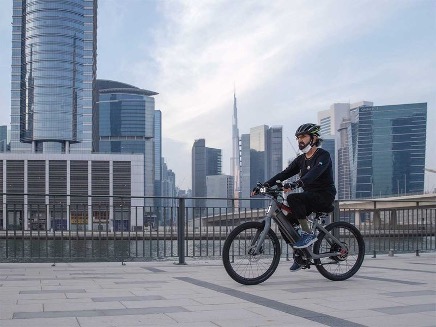 Sheikh Mohammed Bin Rashid Al Maktoum spotted cycling around Dubai on his electric Stromer ST5