Shimano STEPS RT-EM910 Center-Lock Disc Rotor for E-Bike
The Steps RT-EM910 E-Bike disc rotor from Shimano with Center-lock mount, ICE-TECH FREEZA technology and integrated magnet.SHIMANO RT-EM910 disc brake rotors for speed sensor systems deliver powerful and consistent brake performance in all riding conditions. The ICE TECHNOLOGIES FREEZA rotor significantly reduces heat build-up in the brake system to ensure consistent high performance braking even on the steepest downhill stretches. SHIMANO's CENTER LOCK mounting system makes installing and removing rotors quick and easy thanks to the spine mount and lock ring design.
---
Features – Shimano STEPS RT-EM910 Center-Lock Disc Rotor for E-Bike
Lockring type with internal (Internal Serration) or external (External Serration) toothing
ICE-TECH disc rotor for a longer life time of the brake pads
Including magnet for SHIMANO STEPS speed sensor SM-DUE11
Compact, clean, and low profile design
Easy installation to the rear wheel
High heat dissipation by radiator fin
Narrow type disc brake rotor
Recommended Brake kit: M9120/M8120/M7120
Product features
Use: E-Bike
Group: SHIMANO STEPS
Model: RT-EM910
Disc: Center-Lock
Pad compatibility: Metal / Resin (with BR-S700 and BR-S7000 Resin only!)
Diameter (choose variant)
160mm intern (RT-EM910-S)
180mm extern (RT-EM910-M)
203mm extern (RT-EM910-L)
Lockring type with internal or external tool holder!
Compatibility – Brake Caliper
BR-M9100*, BR-M9120, BR-M9110-R**, BR-M9000, BR-M9020, BR-M8100, BR-M8120, BR-M8110-R*, BR-M8000, BR-M8020, BR-M7100, BR-M7120, BR-M7110-R*, BR-M7000, BR-M6100, BR-M6120, BR-M6000, BR-MT520, BR-MT420, BR-M820, BR-M640, BR-S7000, BR-S700, BR-R9270**, BR-R9170*, BR-R8170*, BR-R8070*, BR-R7070*, BR-4770*, BR-RS805*, BR-R785*, BR-RS785*, BR-RS505*, BR-RS405*, BR-RX810*, BR-RX400*
* not compatible with 203mm
** only compatible with 160mm
Material
Stainless steel / Aluminum / Stainless steel
Weight (manufacturer information)
116g (160mm)
144g (180mm)
154g (203mm)
---
Scope of delivery
1 x Shimano  RT-EM910 Center Lock Disc Rotor incl. magnet for SHIMANO STEPS speed sensor SM-DUE11 and lockring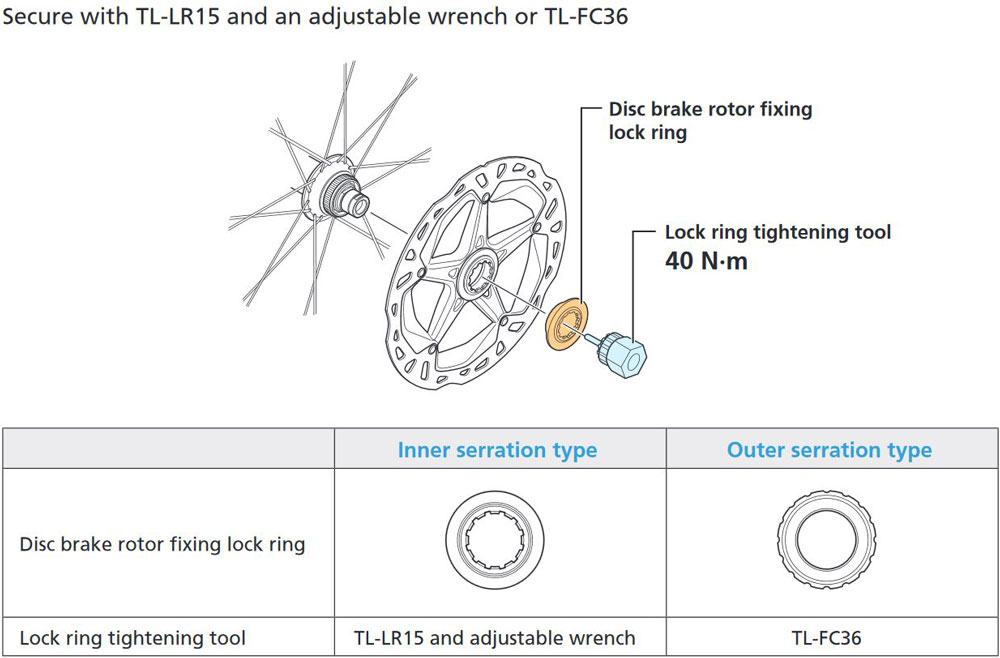 ICE TECHNOLOGIES FREEZA
ICE TECHNOLOGIES combined with FREEZA disc brake rotor construction rapidly dissipates heat for more consistent braking performance in extreme conditions, longer pad life, and less brake fade and noise.
Benefits & Features
Lightweight clad rotors with heat dissipating paint on exposed aluminum layer segments provide superior cooling, consistent brake performance, and lighter operation under all conditions.
Clad brake pads with Aluminum/Stainless fins support rapid heat dissipation which helps reduce maintenance, provide longer pad life, and create less brake fade and noise.
ICE TECHNOLOGIES and FREEZA provide consistent braking performance with longer pad life, less brake fade and noise.
The lightweight and highly efficient three-layer sandwich structure of stainless steel–aluminum–stainless steel enhances heat dissipation.
Center Lock System
The CENTER LOCK system makes an easy rotor installation possible with spline mount and a lock ring. The lock ring mounting system reduces the total working hours by shortening the amount of time of both installation and de-installation. In addition, the secure fixing by the spline mount enhances precision and rigidity while improving braking efficiency.