Description
Cycling yourself is the best thing there is. But sometimes your big adventurer still likes to hop on and ride with you. For those occasions, we have developed the Urban Iki Junior. This folding bike child seat allows you to experience beautiful things together, and can easily fold down when you ride without a passenger. With this seat, adventure is always just ahead!
The Urban Iki Junior is a tough, innovative and stylish rear seat for children from 5 to 10 years with a maximum weight of 35 kilograms. This bicycle rear seat has a soft and ergonomically shaped seat and a robust, foldable backrest. Safety has also been considered. The Urban Iki Junior is equipped with a hip belt that can be neatly stored under the seat after use.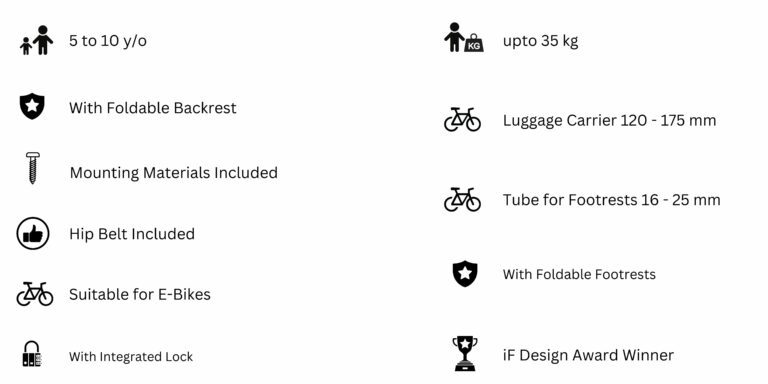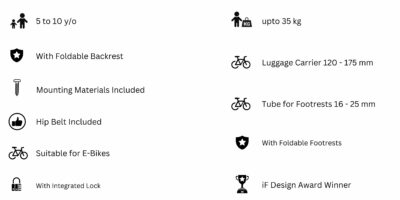 Awarded the iF Design Award
The Urban Iki Junior has been awarded the iF Design award. The innovative design has thus been proven to be innovative and hip. The ergonomics and construction in particular are innovative. The support bracket on the footrests ensures better weight distribution, so that less stress is placed on the bicycle frame. This bracket also ensures that the footrests remain firmly in place and cannot slide when your child gets on and off the bike.
Pros & Cons
The Urban Iki Junior is suitable for mounting on E-bikes.
Thanks to the extra support bracket on the upright rear fork of the bicycle frame, the weight is better distributed over the bicycle.
A hip belt is integrated under the seat for extra safety.
The Urban Iki Junior comes with an installation frame and integrated lock. So you don't have to buy this separately.
Suitable for children age 5 to 10 with a maximum weight of 35 kilograms.
Technology
Includes unique extra support bracket that rests on the frame for guaranteed load capacity up to 35 kg
Winner of the iF Design award
Compatibility
Can be mounted onto an e-bike
Suitable for pannier racks with a width of 120mm to 175mm
Suitable for children aged 5 to 10 years
Max. weight 35 kg
The footrests fit on frame tubes with a diameter between 13 and 22 mm