Discover the world together with Urban Iki front seat. Comfortably sitting front row, your child can enjoy a journey full of surprises with you as their perfect guide. Put your warm arms around them and tell the most beautiful stories. This makes every trip in our front bike seats special.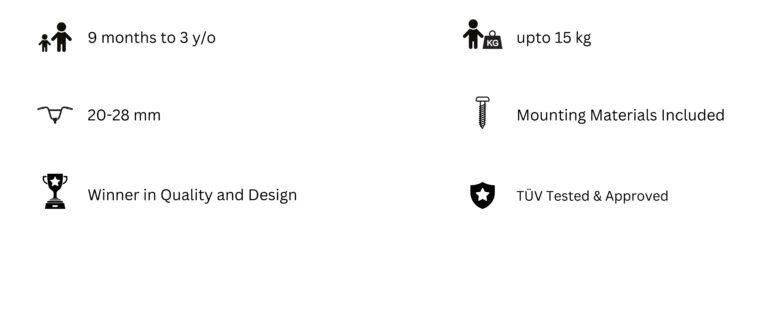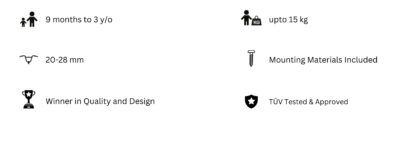 Specifications & Features:
Age range 9 months to 3 years (Weight 9 kg to 15 kg)
This is the perfect product for your children who are learning to ride a bike until they are old enough to ride on their own.

UV TESTED AND APPROVED
When you buy products we trust they are safe and of good quality. This is the way it should be. According to Europe regulations EN14344 is the safety standard. TÜV is an independent institute that takes care of product testing and approval. Urban Ike Seats have been tested and approved by TTUV to meet this safety standard so that you can enjoy complete peace of mind when using our products.
5-Point Safety Harness with Easy Harness Adjustment
We understand the difficulty of getting a child in and out of a bike seat so we designed the product in such a way that you can carry the bike and harness in a young child with just one hand for maximum safety.
ELEGANT DESIGN WITH JAPANESE TECHNOLOGY
Funky, simple and innovative design from Holland combined with high Japanese quality and safety standards.
Urban Iki Front Seat Additional Features
Soft shoulder pads, Adjustable footrests and adjustable foot straps, Soft water repellent rubber seat cushion, Built-in drainage, Ergonomically shaped seat and easy to set up with a push-and-go on a set of knobs.