SHOE FITTING
The optimal shoe size is found by measuring the arch length, foot length and width.
This sizing information can then be cross-checked with the shoe size table, to find the shoe size and width that best matches the rider.
PREPARE THE DEVICE
Prepare the device by setting the width bar to its widest position and the arch length pointer slid all the way back.
This will allow the foot to be positioned easily into the device.
PREPARE FOR MEASUREMENT
Remove footwear. Place right or left heel into matching heel cup. Stand with equal weight on both feet. Check to make sure heel is all the way back into the cup.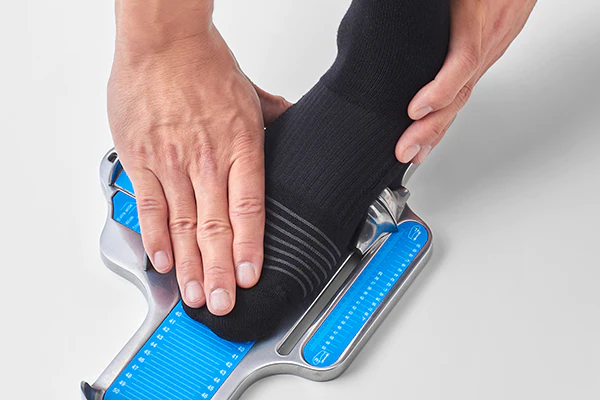 MEASURE THE ARCH LENGTH
Find the ball joint of the foot. Slide the pointer and align it with ball joint. Read the arch length position aligned with the pointer.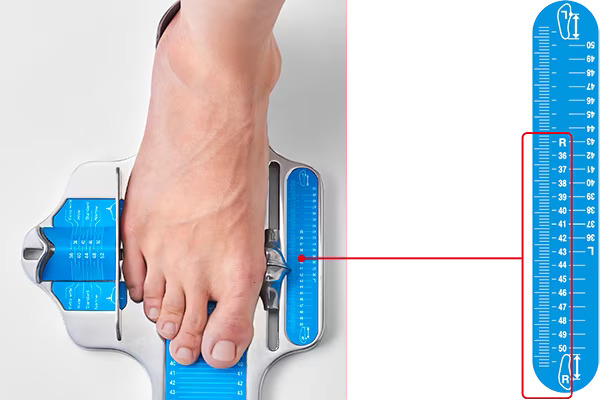 MEASURE THE FOOT LENGTH
Press the toes flat against the base of the device. Take the foot length measurement from the end of the longest toe.
*Note: The longest toe may not be the "Big" toe for some customers.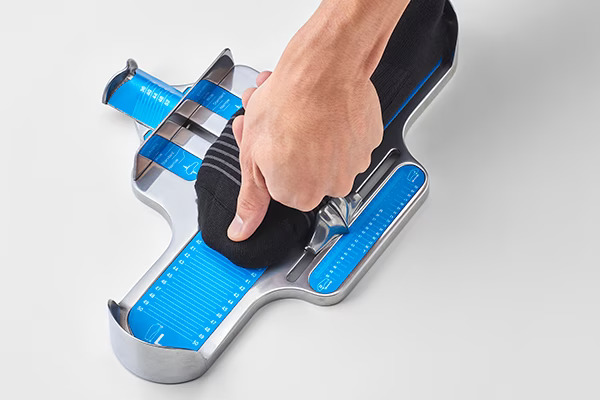 MEASURE THE FOOT WIDTH
Slide the width bar to the edge of the foot. Read the foot width that corresponds to the measured foot length.
*For example, if the length measurement was 43, this photo shows the corresponding width is "Wide".